For enquiries please contact:
US Ph: (843) 410 0091
International
Tel: +49 55 44 218
+49 172 590 3477
• #1 for quality, KD, Steamed European Beech Hardwood. (Fagus sylvatica)
• Quality Lumber graded to NHLA rules of standard inspection.
• Parallel Edged and Graded after Kilning.
• Qtr / Rift sawn stock available.
• Beech for Bending available to order.
• Long Stock available and also Thick Stock.
• Available in USA.
• Cut to size blanks / parts / elements / squares.
• Exports from Germany to customers worldwide.
• FSC® or PEFC™ Chain of Custody Certification.
BaRo has supplied quality European Beech to discerning export customers since the early 1980s. Since then the range of products available and the production volume has increased.
We are able to produce unsteamed or light steamed Euro Beech lumber to NHLA Inspection Standards in the grades of FAS 1 Face, Selects & Better, to meet all your expectations and requirements. Quarter/Rift-sawnand Beech for Bending is available in S&B. Other grades include; BaRo Intermediate / Cabinet / #1Com and also various color grades.
We can supply lightly steamed Euro Beech Lumber in long lengths, up to 15ft, and also thick stock. Many sawmills cannot supply long stock European Beech in any thickness. In addition we can supply squares and cut to size component blanks.
Our thicknesses include 4/4, 5/4, 6/4 and 8/4 and also 10/4 + 12/4 to special order. All produced to standard lengths and low moisture content.
We are able to offer lumber with either FSC or PEFC Chain of Custody Certification, according to your requirements.
BaRo is experienced in the export of lumber from Germany. We have shipped beech lumber to Australia and the Far East since the early 1990s and European Steamed Beech Lumber to the USA since 2005 and satisfying customers world wide with our product.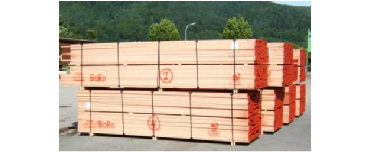 Long length 4/4 (26mm) European Steamed Beech prior to loading into a container for export to USA..